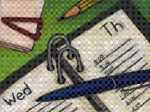 See the planned work schedule vs. actual work.
2003: Enjoying our new kitchen -- It's been a year now since we got our building permit and started packing up the old kitchen. We've been enjoying our new kitchen for many months now. And we love it! All the upheaval, chaos, decision-making stress and money were well worth it in the end. We love the design, we love the results, we love the space. We so enjoy working, eating and spending time in the new expanded kitchen. It's changed the whole house. Thanks, Kitchen Center of Framingham!
Nov. 14, 2002 -- California Closets installs drawers, shelves and hanging rods in the family room closet where the dryer used to be. What a difference! See photos
Nov. 6, 2002 -- Painting and wood staining finished. Fumes somewhat intense, but looks great. See photos
Oct. 31, 2002 -- Painting begins! A crew from Greg's Painting has arrived to paint the kitchen, dining room and 2 family room walls, as well as our living room and hall; they're doing wood staining as well. So far we're really happy with the progress.
Oct. 7, 2002 -- Fluorescent light fixture installed in kitchen work area (wow it's bright after the one naked bulb), new lights installed in closet, cracked window repaired, measurement made for Corian over heater.
Oct. 5, 2002 -- Repaired stools brought back to our house. We can't see where the chip was, and the one that wobbles doesn't anymore. We're happy.
Oct. 3, 2002 -- Dryer installed and wire shelf installed in our new laundry room. We can do our laundry at home now -- with washer and dryer in the same room! Also, the portable toilet is gone from our front yard! More finishing work done (toe-kick under dishwasher, some more trim work, etc.). See photos.
Sept. 30, 2002 -- Protective paper and cardboard covering removed from the Pergo floor. Holes patched in the wall. Easel with all the project plans removed. See photos.
Sept. 28, 2002 -- First meal! Yes, we cooked our very first meal in the new kitchen! Bev and Brian stopped by and helped us break it in. We hadn't unpacked the measuring spoons or potholders yet, and tried our oven for the first time, but things still seemed to work out OK. Otherwise spent the day unpacking stuff, washing stuff, and figuring out where to put stuff. It's a fabulous space and we really love the way it's turned out. Read more about Week 12 or see photos.
Sept. 27, 2002 -- Furniture arrives! It's gorgeous, we love it, and one of the stools is damaged (and another wobbles). Sigh. Store will be sending someone out to repair it. We spend all evening cleaning out construction dust from drawers and cabinets.See photos. Some glitches in ConstructionWorld, as the workers a) cut three unneeded holes in our dining room wall trying to find where to put back the thermostat (it's supposed to be fixed soon), b) damaged several of the family room ceiling tiles (also supposed to be fixed soon), c) cut our phone service while they were working on the wiring (fixed Friday evening).
Sept. 26, 2002 -- Working kitchen at last!!! Yes, there's finally electricity in the kitchen, so the lights and appliances work. The Bisque Refrigerator is hooked up and working, doors are on the laundry room. More things need to be done, including grouting the backsplash, hooking up the dryer, venting the exhaust fan, installing the flourescent fixture in the working area (there's a temporary bulb). But it's usable! Alas, we haven't used it yet tonight, a lot of cleaning and unpacking needs to be done first.
Sept. 25, 2002 -- Cam needs another day to work on the tile floor, so electrician and plumber -- and usable kitchen at last -- are moved to Thursday. Backsplash tile is also installed. See Week 12 photos.
Sept. 23, 2002 -- No more ZipperWorld! Plastic dust shields removed, so we no longer have to zip and unzip plastic to move around the house. Also, more tile flooring installed. See Monday's Week 12 photos.
Sept. 21, 2002 -- Stan comes for 6 hours on Saturday to finish trim and other work. See Week 11 photos.
Sept. 19, 2002 -- After prep work earlier this week, Cam begins laying down our tile floor. Stan continues with carpentry work, including framing the windows and finishing cabinet trim. See Week 11 photos.
Sept. 14, 2002 -- Electrician came today (Saturday) to install the ceiling fan, pendant lights, and recessed lights. See Week 10 photos.
Sept. 12, 2002 -- Running water! The kitchen faucet now works. Also: Warming drawer put into place, addition floor built up to the same level as the old kitchen area, railing work underway. See Week 10 photos.
Sept. 11, 2002 -- Faucet installed, oven moved into place, main sink connected, trim work continues on the cabinets. See Week 10 photos.
Sept. 10, 2002 -- More big progress! The Corian counters are installed, and we love them. Sink, cooktop put in place. The infamous Bisque Refrigerator is delivered at last. See Week 10 photos.
Sept. 4, 2002 -- Pergo flooring is installed. We learn that project completion will be delayed another week at least due to a grave personal matter with one of the skilled tradesmen. New expected completion: week of Sept. 23. Sigh.
Aug. 29, 2002 -- Cabinet installation continues, the dumpster is finally removed! Lots of little problems crop up. Read more about today's glitches.
Aug. 28, 2002 -- Sears tells Lee that our bisque refrigerator will be delivered on Sept. 10 -- more than a month after the intitial incorrect delivery. Read more about Week 8 events.
Aug. 27, 2002 -- Cabinet installation begins! One of the most exciting and dramatic days of the project. The carpenter told me this morning that when I came home from work, it would start looking like a kitchen. And it does!See photos.
Aug. 26, 2002 -- Cabinets arrive to be installed! See photos. Brian estimates we could still be done the week of Sept. 16th, just one week behind schedule. Pool and Patio in Westwood tells us that our first choice fabric was discontinued (we picked that one at Wilson also, just double checked), but the second choice is available. Order goes in. Sears says the may be able to get us our bisque refrigerator directly from GE.
Aug. 24, 2002 -- We order the Lane Grand Cayman kitchen furniture from another store -- Pool and Patio Specialists in Westwood -- at what turns out to be a more than 15% savings. We pick three possible fabrics and will find out Monday if any are still available.
Aug. 23, 2002 -- Plastering is finished. We double-check our delivery with Sears and discover they were planning to give us yet another white frig. Lee is on the phone with them for half an hour, explaining again and again that we ordered bisque and that's what they're supposed to be giving us. They're going to call him back Monday to see if they can actually get us what we ordered. See Week 7 photos.
Aug. 22, 2002 -- Plastering is underway! Lots of work finished on the walls and ceiling. See Week 7 photos.
Aug. 21, 2002 -- Sheetrock finished.
Aug. 20, 2002 -- Work begins on the walls!! See Week 7 photos.
Aug. 19, 2002 -- More electrical work.
Aug. 15-16, 2002 -- More plumbing, electrical work, framing. Lots of aggravation over furniture and appliance orders. Read the full Week 6 story.
Aug. 14, 2002 -- Insulation was put in today, and the lumber pile was moved. (see week 6 photos)
Aug. 13, 2002 -- Brian takes care of the furnace problem, it's now about 10-15 seconds for hot water. Whew. We're informed the fabric we picked for our our kitchen furniture is out of stock and we'll need to go back to the store and select something else. Argh.
Aug. 12, 2002 -- Our furnace is replaced. The new one takes close to 5 minutes before water in the shower gets hot. Some lumber gets piled up in our dining room, making it tough to walk into the living room. Without the living room, that leaves us with our bedroom, the computer room and bathroom for living space (see week 6 photo).
Aug. 10, 2002 -- We make the last big decision and pick out the table and chairs for the step-down eating area and stools for the counter. More info about the furniture at the selections page. We think the only thing left to decide is paint color! Read week 5 update.
Aug. 9, 2002 -- Lots more electrical work. See week 5 photos.
Aug. 8, 2002 -- The appliances are delivered -- and we got the wrong color refrigerator (with a scratch). Argh. Also, more electrical work, including preparation for recessed lighting. See week 5 photos.
Aug. 6, 2002 -- Yet more plumbing work, framing, work around the foundation. The electrician is scheduled this week as well. See week 5 photos.
Aug. 2, 2002 -- More plumbing work, floor preparation, digging around the slab for insulation and reinforcement. See week 4 photos or take a photo tour of the rest of the house to see what it's like living amidst the construction. You can also read the latest e-mail update.
July 29 to Aug. 1, 2002 -- Windows are installed, and plumbing work begins (see photos or read more).
July 23-26, 2002 -- The old kitchen is demolished! (see photos or read more). Also the sliding door is installed, siding goes up on most of the addition.
July 18, 2002 -- Part of the new roof has shingles now (see photos).
July 17, 2002 -- There's now some covering on the framed roof (see photos).
July 15, 2002 -- Roof framing! See photos.
July 14, 2002 -- Martin comes by and helps Lee remove one of our roof antennas that was in the way of the impending roof work. Lee and I spend HOURS cleaning out and packing up the kitchen and family room closet (which will be gutted and redone as part of this project).
July 13, 2002 -- We pick a faucet (American Standard with built-in water filter) and pendant lights (from Wolfers Lighting in Waltham -- great store!).
July 12, 2002 -- Rough frame is made somewhat weather-resistant (see photos). Lee's told we need to move one of the TV satellite dishes -- he hurriedly schedules a satellite TV specialist to come and do that in the afternoon -- and one of our ham antennas (weekend project).
July 11, 2002 -- More framing activity. The contractors arrive at 7:30 this morning, a large truck filled with lumber comes soon after, lots of progress as the walls take shape. Lee and I select a faucet after work (American Standard with built-in filter). See photos.
July 10, 2002 -- Framing begins! Wallace General Contracting of Framingham headed by owner Charles Wallace arrive to cut down a couple of trees and bushes by the patio, and begin actual framing! See photos from Week One.
We also meet with Brian and Linda at the Kitchen Center of Framingham offices to ask questions, select a sink (23 x 18 inch stainless undermount), talk about faucets and get a schedule of events. If all goes according to plan -- and we know that usually things get delayed, but we can dream -- our fabulous new kitchen would be finished the week of Sept. 9!
And, Lee is told by the contractor that he purchased the wrong kind of air conditioner, even though the guy at the store told him it was an air conditioner for wall installation. Turns out it was just for window installation. He returns it, then searches lots of local stores for the right kind of air conditioner (mid-July the week after a heat wave is NOT the best time to look) before finding one at Natick Appliance.
July 8, 2002 -- WORK BEGINS TODAY!! After all the planning, it's hard to believe work is actually underway. Brian arrives at 8 a.m. to get things underway. A dumpster arrives in our driveway, and soon the Demo Man (Hopedale, Mass.) is hard at work outside (see photo).
See more Day One photos!
June 27, 2002 -- We get the official Kitchen Demolition Date: July 24, after which time our old kitchen will be gone forever, and we'll be without a kitchen (and washing machine) for months. I'll get a more detailed schedule of events from Brian the week of July 8.
June 15, 2002 -- We select Oak Planked Pergo for the floor in the step-down eating area, from Only Flooring in Sudbury. (We take the samples home for a week and will tell them definitely on the 22nd). Looks like the only main selections left are lighting, as well as sink and faucet. Lee orders our new garbage disposal online from Sears.
June 8, 2002 -- I start packing up and boxing things that need to be out of the kitchen (everything), dining room cabinets (everything) and living room (delicate things). I'm starting with the china and crystal, doing a little almost every night. Lee continues to work on cleaning out the garage (so we can put boxes of stuff from the kitchen in there) and moving other stuff from the garage to the storage shed.
June 6, 2002 -- Brian has our building permit! At last! The start date of July 8 is still a go. That means we have to start packing up stuff in the kitchen very soon. He also said we should finalize our floor order by then (we picked the tile for the working area of the kitchen, but not which Pergo we want for the eating area).
June 2, 2002 -- We order more appliances, for early August delivery per Brian's instructions. We've already ordered the refrigerator, oven and warming drawer, and expect to order the dishwasher and cooktop within a week. You can see what models we've picked on our selections page.
May 29, 2002 -- We have a project start date: July 8! However, we still don't have a building permit in hand, which is getting me a bit stressed. Brian says it's in the works, as the town sought some additional information.
May 21, 2002 -- Better news. The surveyor has determined we have 22.5 feet between the addition and the property line. So we can resubmit our building plan permit, and hopefully all will be OK.
Also this week: We selected backsplash tile, the sliding patio door and windows.
May 13, 2002 -- Our first setback. Brian calls to say our building permit has been denied -- not permanently, but because there was no plot plan. The plot plan we have doesn't have precise measurements from the end of where the new addition will be to our property line. We need 15 feet. I think it's 20 feet, Lee thinks it's a minimum of 18.5 feet, the town engineer says it's close enough that we need to have it surveyed. That will cost another $300-$400 and marks our first delay.
May 5, 2002 -- We meet with an interior designer at Tiles Plus in Framingham. We decide on floor tile and narrow down a choice for backsplash tile. Cabinet order has been finalized and faxed down to the factory.
April 4, 2002 -- We meet with Brian and Linda to go over project details and estimates, talk about the procedure, agree to the concepts and leave a big deposit. The following week we decide on cabinet wood, style and door handles. Brian will go for a building permit this month!
February 25, 2002 -- We've selected (although not ordered) all our appliances and faxed the information to the Kitchen Center. We should have a meeting with the project manager sometime in mid to late March to go over a detailed contract and work schedule.
February 16, 2002 -- We see preliminary CAD drawings, begin shopping for appliances in earnest. Linda wants exact dimensions for all major appliances by Feb. 25!
January 30, 2002 -- Meet with Linda and Brian at our home. Discuss the overall project goals and procedures; they take measurements; we pay retainer fee. (Note: delay from initial consultation was our choice to postpone the project a year).
March 24, 2001 -- Initial (free) consultation with designer Linda Bradley, CKD, at The Kitchen Center of Framingham. We bring basic measurements and layout of our kitchen; she sketches out an initial concept for a remodel.
Goals:
April -- After meeting with designer Linda Bradley and project manager Brian Forestal to discuss contract specifics and pay first major payment, we finalize cabinet type and order is placed. Brian gets building permit.
Late June or early July -- Work begins; we're without a kitchen (including our washing machine) for two months.
September or October -- Project is finished and we love our new kitchen!
Background
Things actually started back in the spring of 2001, when we thought it was time to update the kitchen. (Actually, it was time to update the kitchen when we moved into the house in the 1980s, but we got used to the pink sink, yellow and orange wallpaper, turquoise counter, broken venting hood and so on. )
We investigated renovating the existing space, but there really wasn't a lot we could do to fix the basic problem: It's too small for both of us to work in there -- or even for one to sit at the table and the other open the refrigerator.
Our initial idea was to expand the kitchen half the width of the house, keeping the kitchen the same width and making it longer. But it turned out for not much extra money, we could double the size of the addition to the full width of the house, giving us an L-shaped kitchen that will include a step-down eating area with sliders to the back.
We met with several different kitchen design people in the spring and summer of 2001, and narrowed our choice down to two. We picked the Kitchen Center of Framingham because they're local (and know our type of house well), we liked a preliminary idea Linda drew up that expanded the kitchen work area and gave it a view of the yard by angling the "peninsula" working area, and they did something similar to what we want at a neighbor's home.
For a variety of personal reasons, we postponed the project a year and began it in winter 2002.